VIVA LAS VEGAS!!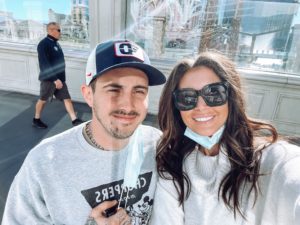 Me and my fiancé went on our first SOLO weekend get-away in almost two years to Las Vegas!! Can you believe it?…we can't! This was our first get-away trip, alone, without our baby boy and we had the best time! We got to connect again with just the two of us and honestly, I did not realize how much I / we needed it! As much as we missed our little, he was in good hands and living his best life hanging out with his Omi and Pa (my mom & dad). They treated him like the king he is and had such fun meals planned, played his little heart out and he stayed on his routine without a hiccup. Knowing he was doing so well helped us relax and really enjoy our weekend getaway in Vegas!
Day One!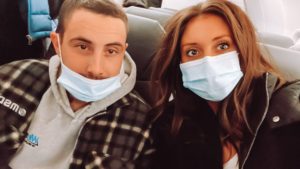 We left on a Friday evening out of the CVG airport and got into Vegas around 11:30PM, which for us was LATE! We went straight to our hotel which was at Caesar's Palace. It was our first time at this hotel and it was lovely! Upon check-in, the process was super quick and they even gave us a complimentary upgraded to a better room! It was so spacious, had a fully stocked mini bar, and a bathroom that was as big as our apartment. It was luxurious! We unpacked our things and went straight to bed on night one (we are old parents here!).
Day Two!
Our second day on our weekend get-away in Vegas was BEAUTIFUL! The bright, warm west-coast sun was shining all day and allowed us to forget about the cold weather back in Ohio. Our first stop that morning was to go check out a famous brunch spot on the strip called HashHouse-a-go-go, and boy did it live up to the hype! Their portions were ridiculously big and their Bloody Mary's, while expensive, were delicious! (I am still dreaming of getting another drink from them soon!). After stuffing our face, we grabbed a drink to-go and started walking the strip. This is one of my favorite things to do and why I love going to Vegas so much.
We popped in every casino and gambled our way up and down the strip. One of our favorite games to play is roulette! I tend to be more conservative with my bets, making the game last longer with the money I have. And, well Ryan, plays it risky every time and will put hundreds down betting against the odds. Some of our favorite casinos to gamble at are Caesars, Bellagio, Flamingo, and Planet Hollywood. These casinos have the right energy, great lay-outs and often a fun, energetic crowd around!
Tired of walking around, we ended up heading back to Caesars and walking through the shops. Caesars has a really cool dome ceiling that is painted like the sky, making you feel like you are outside! At this point, we were exhausted and needed a little refresh. We grabbed a NY slice of pizza along the way from the hotel, and it was seriously so good! We started thinking about dinner, and wanted something Italian but the place we originally wanted to go was completely booked. If you're in Vegas and also craving Italian, please try to get into Trattoria Reggiano. Instead, we opted for something closer and ended up trying the Trevi Restaurant located in the Caesars hotel. The food and service was great and they had a really yummy espresso martini. With our tummies full and our bodies tired, we called it a night after dinner.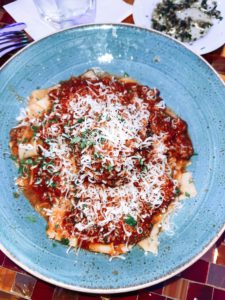 Day Three!
Our third and final day in Vegas was super relaxing! we got to sleep in for the first time in almost two years and took our time getting ready for the day. We took off to try some bomb breakfast sandwiches from EggSlut, which is located in the Cosmopolitan hotel on the second floor, but when we got up there the line was ridiculously long, so we went to the other side of the floor and found this yummy breakfast place called District. They had an amazing breakfast burrito, one of the best iced coffees I've ever had and some really great donuts! I, of course, didn't get any pictures of the food because we ate it up way too fast. It was so good!
After that, we got a beer and walked around the strip some more, popping over into the Aria to check out all of their luxury shops! We didn't waste any money on clothes because we lost it all gambling. This was certainly not a trip of riches! Our flight was on a Sunday night, which happened to be a big game day! The Raiders were playing a home game against the Steelers, which is Ryan's team there in Las Vegas. So we ended our weekend getaway watching the game at Buffalo Wild Wings cheering on the Steelers (I might have been secretly rooting for the Raiders…don't tell Ryan).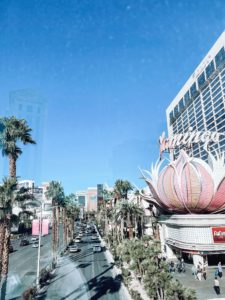 This trip was so amazing, and we cannot wait to go back to Vegas. We are both trying to plan going back to celebrate getting married for our bachelor/bachelorette party weekends but will be going separate weekends. I loved the idea of going as one big group, but staying apart during the weekend but he isn't on board with that. Let me know what you think! Would you want to travel with a big group to Vegas and then separate once you got there, even different hotels, or keep it completely separate?! Comment below!
(*I do make a small commission when you shop through my link. Thanks for supporting me!)
xo, Michelle