A European Honeymoon!
When me and my now husband started planning our wedding, we quickly went to talking about where we would go for our honeymoon. He mentioned Hawaii, I had always dreamed about Greece. So, we obviously compromised and went to Greece!
We talked long and hard about a price range we were comfortable spending, and from there got to planning. I was able to extend our adventures across Europe because shorter flights between our end destination were actually cheaper.
It was a win-win!
We found that flying out of our local airport to New York was our cheapest option, then flying out of New York to Paris. That flight is SO long. We definitely recommend the extra splurge to upgrade if you can swing it.
First Stop: Paris
Once we arrived in Paris, we took an Uber to our hotel, which was located between the Eiffel Tower and Champs-Elysees. While we had less than 24-hours in Paris, we made the most of it by taking a nap as soon as we got to our hotel.
Once we woke up, we took the town by storm! We walked out of our hotel and ate a low-key restaurant with outside seating and ordered some light food and yummy drinks! From there, we saw the Triumph de Arch and the craziness of the traffic that goes around it.
We walked along Champs-Elysees and walked into stores that you see on TV. We had to stop in a famous macaroon shop and try some goodies. With our snacks in-hand, we took an Uber to see the Eiffel Tower, excited to see it sparkle in the night sky. We stood in a short line to get our tickets, rode the two elevators up to the top, with only 10-minutes to spare before the twinkling lights went off.
1 minute past time, 2 minutes passed, 5 minutes pass.
So, I started walking around to find someone and ask why the lights didn't come on. We then realized they shut off the twinkling lights because Queen Elizabeth had just passed away, so out of respect, they weren't turning on the lights.
So, we left the tower and hunted down a ride to take us to see the Louvre at night. With no taxi's or Ubers in sight, we opted for a bicycle ride with ridiculously bright colored lights and even louder music. It was a fun and unforgettable experience.
Once we arrived at the Louvre, it was completely blocked off, so we weren't able to get close to it at all. We made the most of it and posed for some photos in front of it anyways.
Tired, we were ready to go back to our hotel room, since we had an early flight to Florence in the morning. Trying to find an Uber, we were not having any luck.
So as we were walking back to our hotel, which was 3 miles from where we were, I realized the popular ride sharing service in Paris was bolt. Once we downloaded that app, we caught a ride within minutes!
Next Stop: Florence
We were so excited to get to Florence and experience all the pasta our bellies could hold. However, upon arrival, we, and everyone else on the flight, realized the airlines didn't put any luggage on the flight…like no ones. There was no luggage under the plane, only the carry-ons people brought into the cabin.
So we had a terrible start to this leg of the trip, by standing in line to file a claim about our delayed bags. Luckily, before our honeymoon, Ryan made us go get airtags to put in our luggage, so when it arrived the next day in Florence, we knew before the airport notified us.
We were now able to start our trip! We had a full day to explore the city and eat the best pasta we could find. I made sure to get an Aperol Spritz every chance I had. They just taste better on vacation…and in Europe!
Our second full day in Florence, we had booked an ATV adventure in the rolling hills of Tuscany, followed by a wine tasting at a Chianti winery called Fattoria di Luiano. It was AMAZING, especially the views.
The ATV tour was made for 2 couples, but we were the only couple on this private excursion, which was special. After about an hour riding the ATVs through a trail in the Tuscan hills, we hopped on a bus and headed to the city village.
When we arrived, the village was having their annual wine tasting event: Expo Chiani Classico in Greve. I mean, how lucky were we!! We got to taste too many wines to count, in wine country!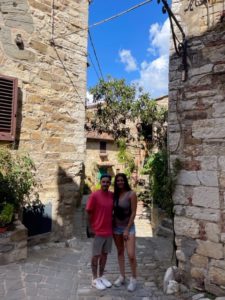 Once we were done there, we hopped back on the bus and headed to a Medieval village of Montefioralle, which dates back to the year 931. It is said to be once owned by the Vespucci family, and believed that Amerigo Vespucci was the one who discovered America. Families still occupy the homes that reside here.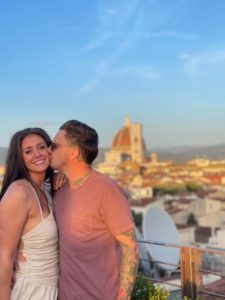 The next day in Florence, we walked around the city center, going into shops, eating amazing food, grabbing gelato, and finding amazing rooftops for drinks! The Westin Excelsior hotel has an amazing rooftop bar with even better views of the river and peak of the Duomo. The bar is called Se.sto on Arno. I would suggest making a reservation ahead of time!
For a more low-key bar, we stumbled upon a more local vibe on the other side of the river called MAD Souls & Spirits. It was pretty crowded but great vibes, basic drinks, quick service and a bar you would find in the states.
Our last day in Florence we had more than half a day to still go exploring before our flight to Greece, so we got up early, got dressed up and went out to take cute photos in front of the Duomo together and go sit at a café to soak in the cities energy. It was magical, peaceful, and soul fulfilling.
While we loved Florence, spending four days was a little long and we were ready for the last leg of our trip and the whole reason we ended up doing a European honeymoon. So off to Greece we went!
Final Destination: Santorini
We arrived in Santorini, Greece late at night, and luckily I had arranged a private pick up to take us to our AirBnB. Upon arrival, our host met us there, walked us through some tips and tricks about the house and made sure we were all settled in.
The next morning, we woke up to magical views of the Mediterranean sea. We had to get ready fairly quick because we had booked a catamaran cruise around the island. This was such an unforgettable experience we will always remember. It was pure bliss. We had the best time, and met some amazing people.
After the cruise, we got to know this Australian couple and decided to check out the infamous black beach. We were acting like locals and going along with what the day had to offer. Spending quality time drinking and laughing with friends from across the world.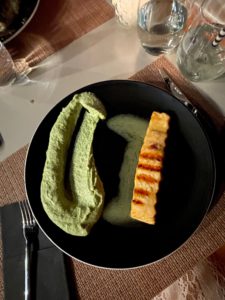 Once we got back to our house, we changed and went out to an amazing restaurant, where we tried octopus for the first time. It was so delicious and flavorful, I can still taste it.
I wouldn't order it myself because I just couldn't get over the texture and knowing what I was eating, but I can't deny the great taste. The restaurant was called Character Italian Restaurant & Lounge Bar located in Thira, which is where we were staying.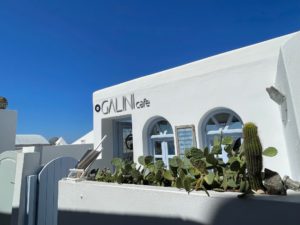 Our next and final full day in Thira, we decided to relax and do a little shopping. We ate at this cute place called Galini Cafe, which had amazing views of the sea. The food and atmosphere were so incredible, we ate there twice. I would recommend making a reservation because it can have a long wait.
We decided we wanted to check out Oia as we were shopping along all the stores in Thira, so we found our way to the bus station that took us to Oia. Once the bus stopped in the famous spot, we stayed on the bus and went straight back to Thira.
Oia seemed too modernized than what we thought. We didn't see many white buildings with the blue domed roofs, and honestly, Thira offered more local culture and better architecture.
Back at our house, we took advantage of our plunge pool and the warm weather we had and hung out while watching passer byers, the beautiful views and each other as newly weds.
I wanted to to take Ryan to a special restaurant he would enjoy, so I booked a reservation at Idol Restaurant, where we got to eat amazing food, drink in each others company, and watch the mesmerizing sunset.
This was a trip of a lifetime and one we will remember forever. We are already talking about where our next special vacation will be, and this time we plan on bringing Rome with us to experience the world!
Where would you love to travel to?!
XO, Michelle